Office parking garage Mont-Saint-Guibert (Belgium)
Zoom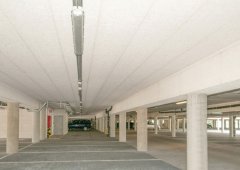 Building regulations in Belgium currently require that the ground floor of office buildings with underground parking garages must be insulated to protect the office space from an outbreak of fire in the garage.
Such insulation must provide both thermal and fire protection for at least two hours.
For an office building in Mont-St-Guibert, Belgium, such regulations did not exist when its building permits were issued in 2001. In 2013, however, the building was upgraded to comply with the latest regulations, and the contractors who performed the work needed to find an insulation solution for the job.