Others
Pitched roof, technical-room insulation and wooden frame construction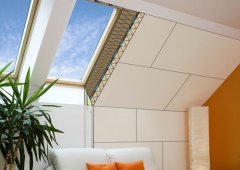 Pitched Roof Applications
Heraklith wood wool insulation boards comprise durable, fire resistant thermal and acoustic insulation solutions for pitched roof applications, thereby providing an all-in-one insulation solutions. They are easy to install and provide an attractive finish for any room that is to be used as a living space.
In addition to their use as pitched roof insulation, they can be employed as loft floor insulation and in certain circumstances to transform an attic into a usable storage area (depending on its construction), because the structural integrity of the boards allows them to support foot traffic and the weight of stored items when properly installed.
Technical Room Insulation
Heraklith offers a special product line of wood wool insulation materials for technical rooms the Tektalan product range, which is fire resistant with an A2 classification ("limited combustibility"). The superior acoustic insulation capabilities of the Tektalan line make it a great choice for insulating the walls and floors of technical rooms where noise can be a problem. And its durability, eco-friendliness, and naturally attractive look render it an easy-to-use, long-term, and sustainable insulation solution.