Basement ceilings
Insulation for basement and garage ceilings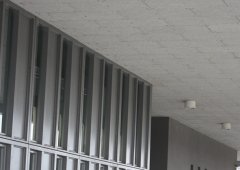 When insulating a single- or multi-family home, it is important to consider the heat-loss vulnerability in every area of the building including the basement ceiling, which can account for as much as 10% of the building energy loss, and the garage.
Such insulation will provide fire protection while preventing heat loss through the ground floor and should also help isolate noise by providing superior acoustic insulation properties.
Heraklith wood wool insulation fits these requirements nicely by providing an all-in-one insulation solution that is attractive, easy to install, and durable, lasting for the lifetime of the building. The durability of the wood wool is specifically useful in areas to prevent damage of the walls while loading vehicles. And because Heraklith wood wool insulation is derived from sustainable natural materials, it comprises an eco-friendly and environmentally responsible approach to home insulation.