Underground garages
Insulation for parking structure ceilings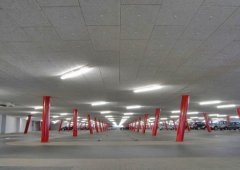 Well-designed parking structures must serve the needs of both the structures themselves and the facilities to which they are attached, such as shopping malls or multi-story apartment buildings. These needs include thermal and acoustic insulation to inhibit heat and noise transfer through the parking ceiling and, most important, fire protection to guard against structural instabilities that can result from the heat of a fire.
Heraklith wood wool insulation is an outstanding all-in-one solution for the insulation of parking ceilings. Not only does it provide superior thermal and acoustic protection, it is available with A2 and B fire classification ratings and can provide fire resistancy for the facilities above the parking structure for up to four hours.
Heraklith wood wool insulation boards are also easy to install and naturally attractive available in a wide array of colours and finishes and are resistant to the physical damage that can result from day-to-day use, for example from cars and rodents. And because Heraklith wood wool insulating boards are manufactured from natural and sustainable materials, they comprise an eco-friendly insulation solution for any parking structure application.