External walls
For external walls and facades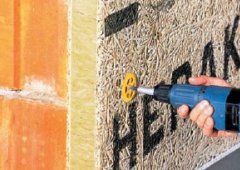 Studies show that external walls are responsible for approximately 25% of the heat loss in a building. Consequently, the thermal insulation of external walls and façades can greatly improve the thermal performance of the building, resulting in reduced energy use and increased comfort for its occupants.
In addition to its insulating properties, external wall insulation must meet special requirements such as the ability to "breathe", so that damaging moisture is not trapped against the external masonry, and the masonry is able to dry naturally if it becomes wet.
Heraklith wood wool insulation boards are well suited to satisfy such requirements. They can be applied as a breathable substrate board for lime render or plaster on an external wall for new construction. And they can be used in home renovation projects, as well, where the wood-wool insulation boards can be applied directly to existing plaster.
Heraklith wood wool insulation boards comprise an exceptional, all-in-one insulation solution for external building walls. Not only do they provide superior thermal and acoustic insulation performance, they are fire resistant and easy to install. They are also highly durable, including to be shock proof and can last for the lifetime of the building.
And due to the fact that they are derived from sustainable natural materials, they represent an eco-friendly and environmentally responsible approach to external wall insulation.